RHIS HISTORY

In 1889 the Redlands Horticultural Society, a men's club, merged with the Redlands Improvement Society, a women's club, to form the Redlands Horticultural and Improvement Society.

Starting in 1913, if enough volunteers were 'volunteering', RHIS held a Spring Flower Show. In recent years, ticket holders were invited to tour the private gardens of local homeowners. Presently, in addition to the tour of beautiful family maintained gardens in the Spring, the public is welcome to visit the RHIS Plant Yard to purchase the large variety of rare and unusual plants that are offered for sale during the special Spring and Fall Plant Sale.

Redlands Horticultural and Improvement Society is the oldest garden club in California and one of the largest garden clubs in the West. Over the years RHIS has carried on its purpose and traditions by sponsoring and assisting in a variety of community programs. In the 21st century, RHIS continues to work on its goal of enhancing the beauty and attractiveness of the greater Redlands area.

RHIS MEMBERSHIP

Membership into the RHIS is accepted continuously. Members are classified as Active and Life. Life members pay a one time fee. Active members pay annual dues and support the activities of the Society. Membership is defined as all people residing at one address. Annual dues are for the fiscal year (July through June) and are due on June 1. Membership includes the Society's monthly newsletter, The Redlandscape, the monthly four to six paged, full color RHIS newsletter mailed to all members, listing the dates and times of upcoming speakers, tours and events, gardening tips, and special items of horticultural interest.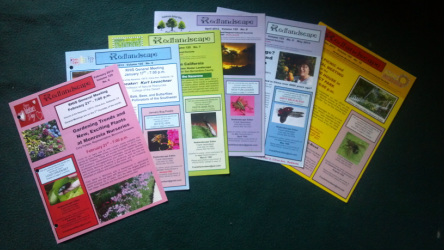 Open to everyone, RHIS General meetings are held September through June, including a Christmas party and June Potluck Picnic. Meetings are held the third Thursday of the month at 7:00 p.m. at the Church of the Nazarene, 1307 E. Citrus Ave, Redlands. The Annual Potluck is held one hour earlier at 6:00 p.m.

Annual Membership dues: Individual/Family $30.00 Contributing $50.00
Patron $100.00 Life $350.00

Membership dues may be sent to:
RHIS MEMBERSHIP, P.O. Box 9235, Redlands, CA 92375
Please include your name, address, and phone number.
ACTIVITIES

Ø Annual Award Winning Garden Tour, and Plant Sale.
Ø Monthly RHIS meetings featuring speakers with a wide range of horticultural
and related topics.
Ø Door prizes and refreshments at General Meetings.
Ø Plant sales in the Spring and Fall.
Ø Educational Workshops in plant propagation, maintenance, and pruning.
Ø Field-trips and nature walks to outstanding gardens and nurseries.


SPECIAL PROJECTS

Ø Jennie Davis Park (Heritage Rose Garden)
Ø Caroline Park (Native Plants)
Ø Smiley Park (Corrine Bromberger Memorial Botanic Garden)
Ø Prospect Park (Lawson Memorial Garden)
Ø University of Redlands Rose Garden (Community workshops in rose care)
Ø School Garden Fund (Education in Horticulture for children and adults)
Ø Kimberly Shirk/RHIS award (Innovative and creative horticulture)
Ø Penny Pines (U.S. Forestry Reforestation Project)
Ø Member Tribute (Horticulture books donated to the A. K. Smiley Public Library in the
memory of past members.)
Ø The RHIS FLORAL DESIGN GROUP offers programs for those who enjoy and want to
explore the "Art" of Floral Design for personal use and community programs.


WAYS OF GIVING

Donations of monetary value, estates, and other assets are a way to secure the long term future existence of the Redlands Horticultural and Improvement Society.Gifts of property and securities are evaluated at fair market value.

Gifts of life insurance provide a convenient way for giving when need for such protection has diminished.

Gifts of will may be written with a simple sentence: "I (name) bequeath the below listed funds/property/funds to the Redlands Horticultural and Improvement Society of Redlands, CA."

Your donation will benefit the RHIS and, at the same time, reduce your estate taxes. Redlands Horticultural and Improvement Society, Inc. is a non-profit corporation under IRS Code Section 501(c)(3) and California FTB Section 23701a.
RHIS, P.O. Box 9235, Redlands, CA 92375